About MIT-Denmark
The MIT-Denmark program brings MIT students, faculty and community members together with Danish innovators in the fields of life science, sustainability, technology, and more. The goal of the program is to increase the collaboration between MIT and Denmark by making connections between Danish companies, research labs, universities and talented MIT students and faculty, bringing valuable benefits to each party involved.
MIT students interning in Denmark report that their experiences have opened their eyes not only to hands-on experience in their field of interest, but to a new way of thinking about work and life. There are opportunities for students across courses of study, particularly for those interested in the fields of biotechnology, energy, computer science and AI.
Explore Scandinavia
In addition to MIT-Denmark, MISTI also works with hosts and organizations in Sweden and Norway for internships, Global Teaching Labs, study abroad and other exciting opportunities. More information is available in the Program Opportunities section below.
Program Opportunities
Denmark Internships
MISTI's award-winning international internship program provides a one-of-a-kind, world-class experience for MIT students: the opportunity to gain real-life work experience in leading companies and labs around the world. Best of all, all expenses are paid.
Denmark is internationally recognized for its leadership in industry and research in the fields of biotech, pharmaceuticals, IT, design, sustainability and more. Internships at companies, labs, startups and other organizations in Denmark are available for 10-14 weeks over the summer, and for longer periods during the semester for graduated and leave of absence students.
MISTI MIT-Denmark Internships are supported by our partner, the Novo Nordisk Foundation.

Scandinavia Internships
Students have the option to intern in Denmark, Sweden or Norway through the MISTI program, with all the same great perks – the opportunity to make a meaningful contribution in a company or research lab, connect with international professionals, and immerse in a new culture and way of thinking. All internships are cost-neutral, with students receiving a stipend to cover travel and living expenses.
In Norway, students can work with global leaders particularly in the fields of energy and technology, surrounded by Norway's stunning natural beauty. In Sweden, students can experience the country's rich cultural history while working with life science and data science topics.
Global Teaching Labs
Learn through teaching. GTL challenges MIT students to synthesize and present what they know, work in a team, and communicate with peers of a different cultural background, all while sharing MIT's unique approach to science and engineering education with high school students around the world. GTLs are often thematic and offered in several country options per IAP.
Teach in Norway
Experience Norway over IAP. In this program, MIT students teach entrepreneurship, programming and STEM subjects to high-school students in an immersive and hands-on experience. 
DIS - Study Abroad in Scandinavia
Study abroad with DIS to take academically challenging courses in English and pursue a dream summer. Students can choose to study in Copenhagen, Denmark or Stockholm, Sweden with cultural and hands-on learning inside and outside the classroom.
Hear from MIT-Denmark students
Interested in hosting an MIT intern?
"Working with MISTI interns is unlike any professional experience I have ever encountered." - Internship supervisor, 2020
Latest News from MIT-Denmark
Meet Your Program Manager
Reach out to Madeline Smith, Managing Director for MIT-Denmark and Scandinavia, to have your questions answered.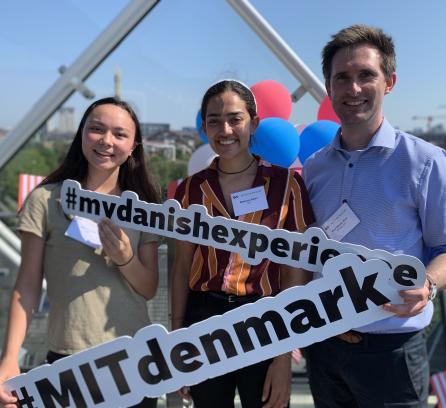 Follow us on social media